Attainable Sustainability
Second Life® recycling by g2 revolution®
g2 revolution is Changing the Way the World Recycles® by developing specialty recycling solutions for businesses of all sizes, from retailers to manufacturers, in order for them to meet their sustainability goals while recycling hard to recycle items and materials.
g2 depackages and processes materials directly, recording data (such as weights and location of origin), or works in conjunction with downstream partners to tackle your product recycling needs.
We are your sustainability solution partner.
Our experienced team analyzes products from all angles to find its Second Life® possibilities.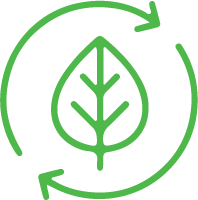 Our services are totally customizable but it doesn't have to break your budget to stay sustainable.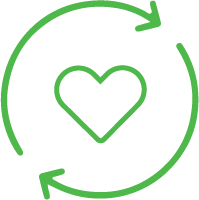 We partner with local non-profits in order to give back by sponsoring meals and financial donations.
THIRD PARTY CERTIFICATIONS
"Many recyclers talk about sustainability in terms of company vision statements and goals. But how can you verify what's real? What does the recycling process entail, and do you get data as proof of what's really happening to your unwanted materials? These are the exact differences that make the g2 experience and make us a recycling leader." – Scott DeMuth, CEM
TELLING YOUR SUSTAINABILITY STORY
When we say "ready to g2," it simply means it's time to start a conversation around your hard to recycle materials. Construct and strengthen your sustainability story with our innovative Second Life® product solutions.
Reduce Landfill Waste from Your Business
Our specialty recycling solutions keep your items out of the trash and include a detailed end-of-life approach in your program plan to ensure closed loop solutions for your items.
Find Innovative Solutions for Your Products
Our comprehensive recycling services offer seamless solutions for hard-to-recycle items such as batteries, plastic bags, consumer chemical products, and even coffee pods!
Recycling Services to Tackle It All
Our green efforts extend from a manufacturer's warehouse to post-consumer efforts for a comprehensive environmental management strategy.   
Discover Hazardous Waste Alternatives
We provide the ability to shift from hazardous waste disposal of chemical products to the possibilities of providing a Second Life® through re-use, reclamation, or donation. 
NEW! USED PPE MAILBACK PROGRAM
Sign Up for Green Revolution Updates
Every month you will receive our Better Tomorrow newsletter containing the latest news and updates on g2 revolution. We never sell or give away your email!

Changing the Way the World Recycles
(888) 411-6994
;
(224) 858-4583